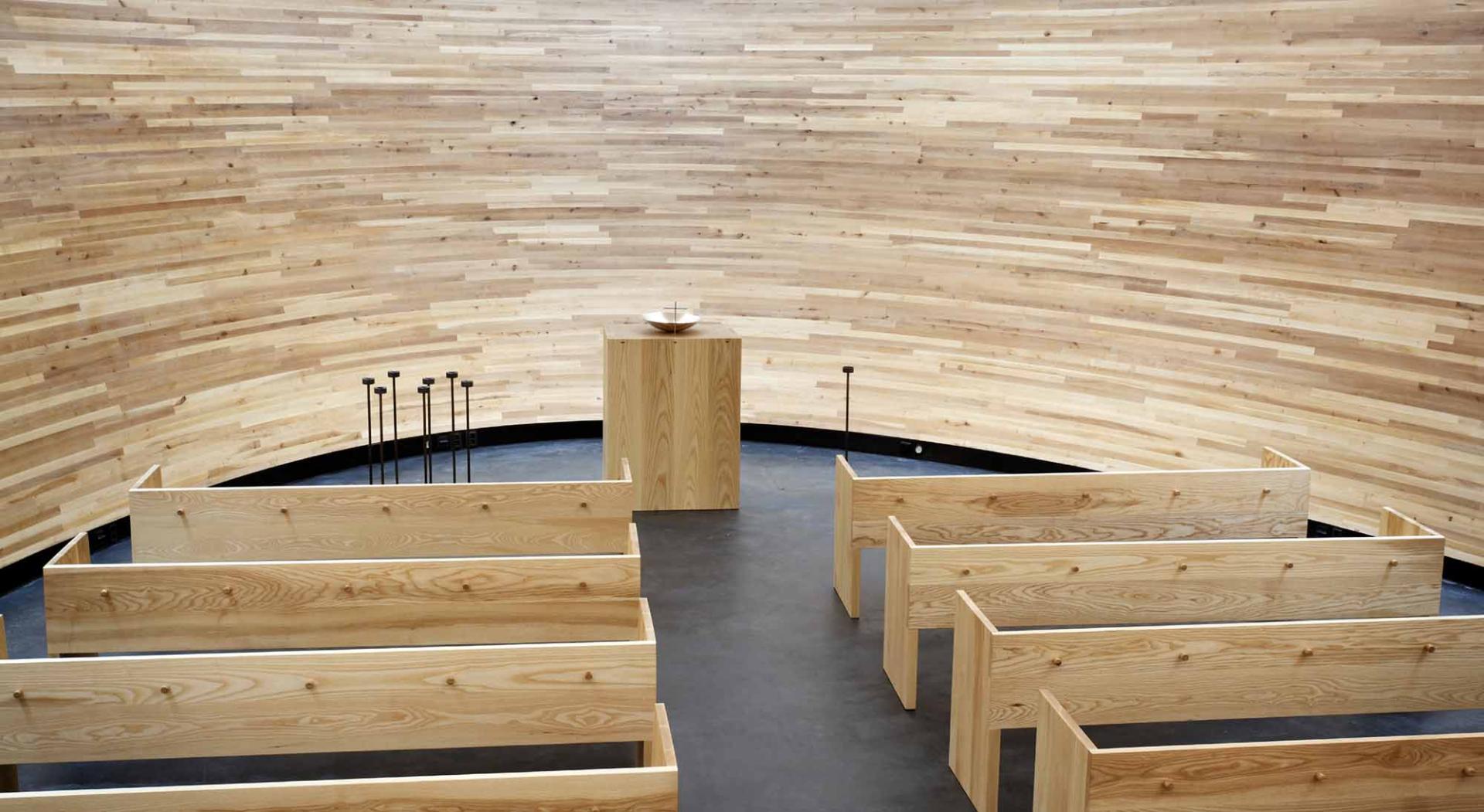 Kamppi Chapel
Welcome to Kamppi Chapel!
Kamppi Chapel is a place for meeting people and appreciating peace and quiet in the centre of Helsinki. Everyone is welcome to enjoy a moment of peace and quiet in the chapel. Employees of the church and the Department of Social Services and Health Care are on hand in the lobby of the chapel during opening hours. You can talk to them if you feel you need help any day of the year, regardless of where you are from. There is no need to make an appointment and all conversations are anonymous. The chapel is jointly run by the Lutheran congregations of Helsinki and the City of Helsinki's Department of Social Services and Health Care.
The chapel was designed by Mikko Summanen, Niko Sirola and Kimmo Lintula, architects belonging to the Helsinki-based practice, K2S Architects. The chapel is 11.5 metres tall and it is made of three different types of wood. The external walls of the chapel are made of spruce. The external walls are coated in a special type of wax that uses nanotechnology. The internal walls are made of alder that was milled into shape, while the fittings and internal door of the chapel are made of ash. The ceiling of the chapel contains plasterboard, which has a sound-proofing effect. The cross on the altar was made by silversmith Antti Nieminen. The silk paraments are the handiwork of textile artist Tiina Uimonen.
The chapel is intended for personal peace and quiet. The chapel cannot normally be reserved for private events such as weddings. On occasions, weddings and christenings have been organised in the chapel. Short prayers are offered in the chapel but there is no church service on Sundays. Concerts are occasionally arranged in the chapel.
Visiting Kamppi Chapel
Photography is not allowed inside Kamppi Chapel. The noise made by cameras breaks the silence in the chapel. If you are a media representative and you wish to obtain a permit to take photographs inside the chapel, contact the chapel office by phone or email.
Kamppi Chapel was opened to the public in June 2012. Approximately 350,000 people visit the chapel annually.
Kamppi Chapel can accommodate up to 60 people at a time. Groups are free to visit the chapel during opening hours. If several large groups arrive at the same time, we may ask some people to wait a moment outside the chapel. If you are in a group and you would like the chapel staff to present the premises and the chapel's activities, we ask that you book a presentation in advance by contacting the chapel office by phone or email. Guides should remind visitors that silence is essential inside the chapel. Due to the special acoustics of the premises, even whispers can be heard all around the chapel. During evening services (Fridays, 6pm) and concerts, large groups are not admitted to the chapel.
ewogICJlbGVtZW50X21vZGUiIDogIiIsCiAgImVsZW1lbnQiIDogImhzcmt5L3RrL29zaW9zaXZ1L2FsaW5hdmlnYWF0aW8iLAogICJlbGVtZW50LmNvbXBvbmVudCIgOiAidHJ1ZSIsCiAgImVsZW1lbnQuNiIgOiAiZmFsc2UiLAogICJlbGVtZW50LjUiIDogImZhbHNlIiwKICAibmF2aWdhYXRpbyIgOiAidGsvbmF2aWdhYXRpbyIsCiAgInNlY3Rpb24iIDogImRlZmF1bHQiLAogICJlbGVtZW50LnB1YmxpY2xpbmsiIDogIi9lbGVtZW50Lmh0bWwuc3R4IiwKICAiaW1wb3J0cGF0aCIgOiAiL3dlYmNvbXBvbmVudHMvaHNya3kvdGsvb3Npb3NpdnUvYWxpbmF2aWdhYXRpby8iLAogICJVSUQiIDogImlkdzhYeTBYRTlnIiwKICAiY3NzIiA6ICJjc3MvYWxpbmF2aWdhYXRpby5jc3MiLAogICJlbGVtZW50LnB1YmxpY2NvbXBvbmVudCIgOiAidHJ1ZSIsCiAgImRhdGFfbGlzdGVuZXJzIiA6ICJoc3JreS90ay9vc2lvc2l2dS9hbGluYXZpZ2FhdGlvLC9jbXNhY3Rpb25zIiwKICAic2l0ZSIgOiAiIiwKICAiY2FyZGNoYW5uZWwiIDogInB1YmxpYyIsCiAgIkNVUlJFTlRQQVRIIiA6ICIvaHNya3kvdGsvb3Npb3NpdnUveWxhb3NhL2hzcmt5L3RrL29zaW9zaXZ1L2FsaW5hdmlnYWF0aW8vIiwKICAidXJsZXhlY3V0ZXBhdGgiIDogIi9jaGFubmVscy9wdWJsaWMvd3d3L2thbXBpbmthcHBlbGkvZmkvaW5kZXgvcDV5NGczT01wIiwKICAiZWxlbWVudC5saW5rIiA6ICIvZWxlbWVudC5odG1sLnN0eCIsCiAgImxpc3RlbmVycGF0aCIgOiAiL2Ntc2FjdGlvbnMiLAogICJza2luIiA6ICJza2lucy9hbGluYXZpZ2FhdGlvLmh0bWwiLAogICJlbGVtZW50LmxvYWQiIDogInNlcnZlciIsCiAgIlhYWGVsZW1lbnQub25sb2FkIiA6ICJzZXJ2ZXIiLAogICJjaGFubmVsLmxhbmd1YWdlIiA6ICJmaSIsCiAgIklOU1RBTkNFSUQiIDogInc4WTFsOUY1VSIsCiAgImVsZW1lbnQubW9kZSIgOiAiZWxlbWVudCIsCiAgImVsZW1lbnQubGFuZ3VhZ2UiIDogImZpIiwKICAiaTE4bi5iYXNlIiA6ICJoc3JreS90ay9vc2lvc2l2dS9hbGluYXZpZ2FhdGlvIiwKICAiZWxlbWVudC5wYXRoIiA6ICJoc3JreS90ay9vc2lvc2l2dS9hbGluYXZpZ2FhdGlvIiwKICAicHVibGljdXJsIiA6ICIvZWxlbWVudC5odG1sLnN0eCIsCiAgImVkaXR1cmwiIDogIi9iaW4vZ2V0L3ZlZC9wNXlNVGpsUTcucDV6a3dHd2Y5LkRFeE5UdnpJNyIsCiAgIiIgOiAiIiwKICAidmlld3VybCIgOiAiL2Jpbi9nZXQvdmlkL3A1eU1UamxRNy5wNXprd0d3ZjkuREV4TlR2ekk3IiwKICAiR1VJRCIgOiAiIiwKICAibGFuZyIgOiAiIgp9
Välkommen till Kampens kapell!
Kampens kapell är en plats för stillhet och möten i centrum av Helsingfors. Träkapellet välkomnar alla besökare. I kapellets aula betjänar under öppethållningstiden både kyrkans anställda och social- och hälsovårdspersonal. De finns tillgängliga för anonyma samtal utan tidsbokning varje dag under året oberoende av din hemort. För kapellets verksamhet svarar de lutherska församlingarna i Helsingfors och Social- och hälsovårdsverket vid Helsingfors stad.
Kapellet är planerat av arkitekterna Mikko Summanen, Niko Sirola och Kimmo Lintula vid K2S-arkitektbyrån i Helsingfors. Kapellet är 11,5 meter högt och är byggt av tre olika träslag. Kapellets yttre väggar är gjorda av gran. De yttre väggarna är belagda med vax som utnyttjar nanoteknologi. Innerväggarna är skapade i formad klibbal och kapellets möbler och innerdörr är gjorda i ask. Kapellets tak är försett med en ljusisolerande gipsskiva. Korset vid altaret är formgivet av silversmed Antti Nieminen. Kyrkotextilierna i silke är designade av textilkonstnär Tiina Uimonen.
Kapellet är avsett för att stilla sig och finna ro. Kapellet kan i regel inte bokas för privata tillställningar, såsom bröllopsfester. Ibland har man arrangerat särskilda bröllops- och doptillställningar i kapellet. I kapellet hålls korta andakter men ingen gudstjänst under söndagar. I kapellet arrangeras även konserter ibland.
Willkommen in der Kamppi-Kapelle!
Die Kamppi-Kapelle ist ein Ort der Begegnung, der Ruhe und des Friedens im Herzen von Helsinki. Jeder ist eingeladen, einen Moment der Ruhe und des Friedens in der Kapelle zu genießen. Während der Öffnungszeiten stehen Mitarbeiter der Kirche sowie des Sozial- und Gesundheitsamts in der Lobby der Kapelle für Besucher zur Verfügung. Sie sind an jedem Tag im Jahr für Sie ansprechbar, wenn Sie Unterstützung brauchen, unabhängig davon, woher Sie kommen. Es muss kein Termin vereinbart werden. Alle Gespräche bleiben anonym. Die Kapelle wird gemeinsam von der lutherischen Kirchengemeinde von Helsinki und dem Sozial- und Gesundheitsamt der Stadt Helsinki geleitet.
Die Kapelle wurde von Mikko Summanen, Niko Sirola und Kimmo Lintula entworfen, Architekten der in Helsinki ansässigen K2S Architects Ltd. Sie ist 11,5 Meter hoch und besteht aus drei verschiedenen Holzarten. Die Außenwände der Kapelle sind aus Fichtenholz gefertigt. Sie sind mit einem speziellen Wachs beschichtet, das mit Nanotechnologie entwickelt wurde. Die Innenwände bestehen aus Erlenholz, das in Form gefräst wurde; für die Einrichtung und die Innentür wurde Eschenholz verwendet. Die Decke der Kapelle besteht aus schallisolierenden Gipstafeln. Das Kreuz auf dem Altar ist das Werk des Silberschmieds Antti Nieminen. Die Seidenparamente wurden in Handarbeit von der Textilkünstlerin Tiina Uimonen gefertigt.
Die Kapelle soll den Menschen als Ort der Ruhe und des Friedens dienen. Sie kann normalerweise nicht für Privatveranstaltungen wie Hochzeiten gemietet werden. Gelegentlich wurden jedoch schon Hochzeiten und Taufen in der Kapelle arrangiert. Es werden kurze Andachten abgehalten, einen Gottesdienst am Sonntag gibt es nicht. Von Zeit zu Zeit finden in der Kapelle auch Konzerte statt.
Bienvenue à la chapelle de Kamppi!
Cette chapelle est un lieu de recueillement et de rencontre. Vous serez tous les bienvenus pour vous recueillir dans cette chapelle en bois, édifiée en plein centre d'Helsinki. Tous les jours de l'année pendant les heures d'ouverture de la chapelle, des employés de l'église et des services sociaux et de la santé de la Ville d'Helsinki sont à votre écoute. N'hésitez pas à leur faire part de vos réflexions ou de vos soucis, sans rendez-vous, en tout anonymat et quelle que soit votre commune de résidence. Les paroisses luthériennes d'Helsinki et les services sociaux et de santé de la Ville d'Helsinki organisent ensemble les activités de la chapelle.
La chapelle a été conçue par Mikko Summanen, Niko Sirola et Kimmo Lintula du bureau d'architectes K2S d'Helsinki. Elle est construite en bois et fait 11,5 mètres de hauteur. Trois essences de bois différentes sont représentées: les façades extérieures sont en épicéa et sont cirées avec un produit de la nanotechnologie, les parois intérieures sont en planches d'aulne et le mobilier est en frêne. Au plafond, une plaque de plâtre assure le confort acoustique. La croix de l'autel est une réalisation de l'orfèvre Antti Nieminen, l'artiste textile Tiina Uimonen a conçu les soieries religieuses.
Cette chapelle est avant tout un lieu de recueillement personnel. Il n'y a pas de messe le dimanche et, sauf cas exceptionnels, on ne peut pas la réserver pour y célébrer des événements privés (mariages ou baptêmes par exemple). Des instants de prière et des concerts sont parfois organisés dans la chapelle.
Bienvenido a la capilla de Kamppi!
La capilla de Kamppi es un lugar para el recogimiento y el encuentro en pleno centro de Helsinki. En la capilla de madera todo el mundo es
bienvenido para un momento de reposo. En el vestíbulo, durante el horario de apertura se encuentran trabajadores de la iglesia y de las autoridades sociales y de salud. En caso de necesidad, puede acudir a conversar con ellos sin cita previa, de forma anónima, sin importar su procedencia y todos los días del año. La actividad de la capilla es organizada conjuntamente por las parroquias luteranas de Helsinki y las autoridades sociales y de salud municipales de Helsinki.
La capilla fue diseñada por los arquitectos del estudio local de arquitectura K2S Mikko Summanen, Niko Sirola y Kimmo Lintula. Tiene 11,5 metros de altura y está construida con tres tipos distintos de madera. Las paredes exteriores son de abeto. Están recubiertas con cera elaborada con técnicas de nanotecnología. Las paredes interiores están elaboradas con tableros de aliso fresados, mientras que el mobiliario y la puerta interior son de fresno. El tejado de la capilla está equipado con una placa de escayola que actúa como aislamiento acústico. La cruz del altar ha sido realizada por el platero Antti Nieminen. Los tejidos eclesiásticos de seda son obra de la artista textil Tiina Uimonen.
La capilla está destinada al recogimiento personal. Normalmente, no es posible reservarla para celebraciones privadas, como bodas. De vez en cuando, se organizan bodas o
bautismos especiales. En la capilla se celebran breves actos de devoción, pero no hay misa los domingos. En ocasiones, también se organizan conciertos en la capilla.
Bem-vindo(a) à Capela Kamppi!
A Capela Kamppi é um local de encontro e para apreciar a paz e a tranquilidade no centro de Helsínquia. São todos bem-vindos para desfrutar de um momento de paz e silêncio na capela. Os funcionários da igreja e o Departamento de Serviços Sociais e Cuidados de Saúde estão disponíveis no átrio da capela durante o horário de funcionamento. Pode falar com eles se sentir que precisa de ajuda em qualquer dia do ano, independentemente da sua origem. Não é necessário fazer uma marcação e todas as conversas são anónimas. A capela é gerida em conjunto pelas congregações Luteranas de Helsínquia e pelo Departamento de Serviços Sociais e Cuidados de Saúde da Cidade de Helsínquia.
A capela foi desenhada pelos arquitectos Mikko Summanen, Niko Sirola e Kimmo Lintula da K2S Architects, uma firma sedeada em Helsínquia. A capela tem 11,5 metros de altura e é composta por três tipos de madeira diferentes. As paredes externas da capela são feitas de madeira de abeto. As paredes externas estão revestidas com um tipo de cera especial que utiliza nanotecnologia. As paredes interiores são feitas de amieiro-vulgar cortado à medida, enquanto os encaixes e a porta interior da capela são feitos de freixo. O tecto da capela contém placas de gesso, que têm um efeito de insonorização. A cruz no altar foi esculpida pelo ourives Antti Nieminen. Os paramentos de seda são obra da artista têxtil Tiina Uimonen.
A capela foi concebida para ser um local de paz pessoal e silêncio. A capela normalmente não pode ser reservada para eventos privados, como casamentos. Em determinadas ocasiões, foram organizados casamentos e baptizados na capela. São realizados breves momentos de oração na capela, mas não existe qualquer serviço religioso aos Domingos. Ocasionalmente, são organizados concertos na capela.
Benvenuti alla Cappella di Kamppi!
La Cappella di Kamppi è un luogo di silenzio e di incontro al centro di Helsinki. Tutti sono benvenuti alla cappella di legno per un momento di quiete. All'ingresso della cappella, durante l'orario di apertura, sono presenti sia rappresentanti della Chiesa che dipendenti del dipartimento dei servizi sociali e della salute. È possibile incontrarli per colloqui e parole d'aiuto, senza prenotazione, e in maniera anonima, indipendentemente dal luogo di residenza e in ogni giorno dell'anno. Dell'attività della cappella rispondono le parrocchie luterane di Helsinki e il dipartimento dei servizi sociali e della salute del comune di Helsinki.
La cappella è stata progettata dagli architetti Mikko Summanen, Niko Sirola e Kimmo Lintula dello studio di architetti di Helsinki K2S. La cappella è alta 11,5 metri e per la sua costruzione sono stati utilizzati tre tipi diversi di legno. Le pareti esterne della cappella sono realizzate in abete e sono state rivestite con cera utilizzando il trattamento nanotecnologico. Le pareti interne sono costituite da tavole in ontano fresato e sia i mobili della cappella che la porta interna sono in frassino. Il pannello in cartongesso che si trova sul soffitto della cappella fa da insonorizzante. La croce situata sull'altare è opera dell'argentiere Antti Nieminen. I tessuti di seta della chiesa sono una creazione dell'artista tessile Tiina Uimonen.
La cappella è un luogo di raccoglimento e silenzio, e solitamente non può essere prenotata per cerimonie private, come ad esempio feste di matrimonio. Alcune volte nella cappella vengono organizzate occasioni speciali in cui si celebrano matrimoni e battesimi. Nella cappella si tengono brevi momenti di preghiera, ma di domenica non vi si celebra la messa. Nella cappella si organizzano ogni tanto anche concerti.
Добро пожаловать в часовню Камппи!
Эта деревянная часовня в центре Хельсинки ‒ место встреч и уединения. Ее двери открыты для всех, кто хочет побыть в тишине. В часы работы часовни в ее вестибюле дежурят работники церкви и Управления по социальной защите и здравоохранению. С ними можно при необходимости побеседовать в любой день ‒ без записи, анонимно и независимо от региона постоянного проживания. За работу часовни отвечают городские лютеранские приходы и Управление по социальной защите и здравоохранению Хельсинки.
Авторами проекта часовни являются архитекторы бюро K2S Микко Сумманен, Нико Сирола и Киммо Линтула. Высота часовни составляет 11,5 метров, и она построена с использованием трех пород дерева. Наружные стены здания выполнены из ели и покрыты воском, изготовленным с применением нанотехнологий. Материал внутренних стен ‒ черноольховые доски, выпиленные в нужную форму; оснащение часовни и внутренняя дверь выполнены из ясеня. Гипсокартонная плита на крыше часовни выступает в роли звукоизоляции. Крест на алтаре ‒ результат работы серебряных дел мастера Антти Ниеминена. Автор шелковых церковных тканей ‒ художник по текстилю Тиина Уймонен.
Часовня предназначена для уединения. В ней, как правило, не проводятся такие заказные мероприятия, как, например, свадебные торжества. Время от времени здесь организуются особые венчания и проводятся обряды крещения. Здесь проходят молебны, но по воскресеньям службы не проводятся. Иногда часовня становится местом проведения концертов.
Tere tulemast Kamppi kabelisse!
Kamppi kabel on kohtumiste ja vaikse kaemuse koht Helsingi kesklinnas. Kõik on teretulnud puidust kabelisse leidma meelerahu. Kabelisaalis on lahtioleku ajal valves kiriku ning sotsiaal- ja tervishoiuameti töötajad. Soovijad saavad neilt nõustamisabi aega broneerimata, anonüümselt, elukohast sõltumata ja iga päev. Kabeli tegevust korraldavad ühiselt Helsingi luterlikud kogudused ning Helsingi linna Sotsiaal- ja Tervishoiuamet.
Kabeli on projekteerinud Helsingi arhitektuuribüroo K2S arhitektid Mikko Summanen, Niko Sirola ja Kimmo Lintula. Kabel on 11,5 meetrit kõrge ja see on ehitatud kolmest puiduliigist. Kabeli välisseinad on kuusepuidust. Need on pinnatud nanotehnoloogilise vahaga. Siseseinad on vormi freesitud sanglepaplankudest, kabeli mööbel ja siseuks on saarepuidust. Kabeli lakke on heliisolatsiooniks paigaldatud kipsplaadid. Altaril oleva risti valmistas hõbedasepp Antti Nieminen. Siidist kirikutekstiili on kujundanud tekstiilikunstnik Tiina Uimonen.
Kabel on mõeldud oma hinge süüvida soovijatele. Tavajuhtudel ei saa kabelit kasutada eraüritusteks, näiteks pulmapeoks. Aeg-ajalt on kabelis korraldatud spetsiaalseid pulma- või ristimistseremooniaid. Kabelis peetakse lühikesi palvusi, kuid pühapäeviti jumalateenistust ei toimu. Vahetevahel korraldatakse kabelis ka kontserte.
カンピ礼拝堂にようこそ。
カンピ礼拝堂はヘルシンキ中心部で人々と出会い、安全と平和の真価を認める場所です。礼拝堂では、誰でも安全と平和の瞬間を自由に楽しむことができます。開館時間中、礼拝堂のロビーには教会および健康・社会福祉部の職員が待機しています。助けを必要と感じていらっしゃる方は、どの国の方であれ、1年中いつでも彼らと話すことができます。約束を取る必要はなく、相談にいらした方のお名前を聞くことはありません。礼拝堂は、ルター派の信徒およびヘルシンキ市の健康・社会福祉部によって共同運営されています。
礼拝堂はヘルシンキに本拠地を置く設計事務所、K2SArchitectsに属する建築家、Mikko Summanen(ミッコ・スンマネン)、Niko Sirola(ニコ・サーロラ)、Kimmo Lintula(キンモ・リントゥラ)により設計されました。礼拝堂は11.5メートルの高さがあり、3種類の異なる木材でできています。礼拝堂の外壁はトウヒでできています。外壁は、ナノテクノロジーを使用する特殊なタイプのワックスでコートされています。内壁は加工され形を整えられたハンノキで、また礼拝堂の建具と内扉はセイヨウトネリコでできています。礼拝堂の天井には石こうボードを含んでいるため、防音効果があります。祭壇の十字架像は、銀細工師のAntti Nieminen(アンッティ・ニエミネン)により創られました。絹の室内装飾品は、織物アーティストのTiina Uimonen(ティーナ・ウィモネン)の手になるものです。
礼拝堂は個人の安全と平和を目的としています。礼拝堂は、通常、結婚式などの個人的イベントのために予約することはできません。ですが、礼拝堂で結婚式や洗礼式が企画されることがときどきあります。日曜日には短い祈りが捧げられますが、礼拝は行われません。コンサートが礼拝堂で行われることがときどきあります。
欢迎光顾康比礼拜堂。
康比礼拜堂是在赫尔辛基中心与人见面、享受清净的地方。本礼拜堂欢迎每个人前来享受清净的时刻。开放期间,礼拜堂职员以及社会服务和卫生保健部门在礼拜堂大厅随时为来访者提供服务。无论你来自何方,如果你需要帮助,你可以在任何时候告诉他们。来礼拜堂前,无需预约,来这里交谈的人都不用登记姓名。本礼拜堂由赫尔辛基路德教会宗教团体以及赫尔辛基市社会服务和卫生保健部门联合经营。
本礼拜堂由建筑师 Mikko Summanen、Niko Sirola 和 Kimmo Lintula,熟知赫尔辛基惯例的建筑师以及 K2S 建筑师设计而成。本礼拜堂高 11.5 米,由三种不同的木材建造而成。外墙由云杉建造而成。外墙上涂有使用了纳米技术的特种蜡。内墙由加工成形的赤杨建造而成,室内用品和内门由白蜡树制作而成。天花板含有隔音石膏板。圣坛上的十字架由银器匠 Antti Nieminen 制作而成。丝绸礼罩是艺术家 Tiina Uimonen 用织品制作的手工制品。
本礼拜堂用于个人清修静养。通常不能预约礼拜堂用于婚礼等私人活动。礼拜堂偶尔会组织婚礼和洗礼仪式。礼拜堂提供简短的祈祷服务,但星期天不提供教堂礼拜服务。礼拜堂偶尔也会安排音乐会。
깜삐 예배당
깜삐 예배당에 오신 것을 환영합니다! 깜삐 예배당은 헬싱키의 한복판에 위치한 곳으로 사람들을 만나고 평화와 고요를 음미하기 위한 장소입니다. 누구나 예배당에서 평화와 고요의 순간을 만끽할 수 있습니다. 교회 직원과 사회복지 및 보건부 직원들이 개방 시간 동안 예배당의 로비에 상주하고 있습니다. 여러분의 출신지는 전혀 중요하지 않습니다. 도움이 필요하다고 느끼시면 누구든 연중 어느 날이라도 직원들과 이야기 나눌 수 있습니다. 예약은 필요 없고 모든 대화는 익명으로 이루어집니다. 이 예배당은 헬싱키의 루터 회중교회와 헬싱키 시 사회복지 및 보건부에 의해 공동으로 운영됩니다.
예배당은 헬싱키의 건축회사 K2S의 건축가인 미꼬 숨마넨(Mikko Summanen), 니코 시로라(Niko Sirola), 낌모 린뚜라(Kimmo Lintula)에 의해 설계되었습니다. 예배당은 높이가 11.5미터이고 서로 다른 세 가지 목재로 지어졌습니다. 예배당의 외부 벽면은 가문비나무로 만들어졌습니다. 외부 벽은 나노 기술을 이용하는 특별한 왁스로 코팅되어 있습니다. 내부 벽면은 오리나무를 갈아서 만든 모양으로 이루어졌고, 예배당의 가구들과 내부 출입문은 물푸레나무로 제작되었습니다. 예배당 천장에는 방음 효과가 있는 플라스터보드가 사용되었습니다. 제단에 있는 십자가는 은세공사 안띠 니에미넨(Antti Nieminen)에 의해 제작되었습니다. 비단 장식은 직물 예술가인 띠이나 우이모넨(Tiina Uimonen)의 수공예 작품입니다.
예배당은 개인의 평화 및 고요를 위한 장소입니다. 일반적으로 결혼 같은 개인 행사 예약을 받지 않지만 결혼식과 세례식이 열린 적은 있습니다. 예배당에서 짧은 기도가 제공되지만 일요일에는 교회 예배가 없습니다. 때때로 예배당에서 콘서트가 마련되기도 합니다.